So you want to watch a concert in Singapore, why? Is it because your fave artist will not have a concert in Manila? (**cough** Agust D **cough** Taylor Swift) Or is it because you want to watch all of their Asian stops? Whatever your reason, you are reading the right post. I've watched concerts in Singapore and bought the tickets myself. Below is my guide on how to buy tickets on Ticketmaster Singapore even if you live in the Philippines. I answered some FAQs too. But if you prefer to listen than read, you may watch my tips here.
Tips on how to buy on Ticketmaster:
1. Register on Ticketmaster at least a day before the selling date so you're log-in process will be fast. Don't want to waste precious seconds filling out your email and verifying it while all the good seats are getting taken!
2. Plan ahead which section you're going to buy and which day you're going to attend (if there is more than one) because it's going to be a bloodbath, Hunger Games, or a war. Yes, I'm exaggerating. But it's truly nerve-wracking.
3. If you're going to purchase tickets during presale, make sure you know the steps. Each presale has its own steps/rules and may require registration. Please read it very well. For example, HYBE artists like Agust D, Seventeen, TxT, Enhypen, etc. have Fan Club Preselling. To register for that, you have to fill up a form in the Weverse app so you can use your membership number as a code for the presale. Take note that registrations have a deadline. While for "Live Nation Presale" you need to have an account in Live Nation and buy the ticket by going thru their site. While others like PayPal Presale or **Bank Name** Presale, you need to have an account or own a card from them.
4. On the day of the sale, make sure your presale code (if there's one), and card details are saved where you can easily copy/paste them. Or you can save your details like your card name and number in your browser for faster checkout. For billing details, you can save that in your Ticketmaster account when you register.
5. USE YOUR FASTEST DEVICE AND WIRED INTERNET. It's faster than WiFi. If you can't connect thru wire, just ask people in your house not to connect to WiFi during the ticket-selling day.
6. If you're going to open multiple browsers or going to use multiple devices for a better chance of getting a low queuing number, make sure you're not using only one Ticketmaster account for all of them. Because they will flag you as a bot and block your account for at least 24 hours. I have 2 accounts actually because I have 2 phone numbers. But what I do is, I use different accounts on different devices. I saved my login details in the browser for faster log in but I don't log in while I'm in the waiting and queueing sections. I do it when I'm in the purchasing section already before I choose seats to prevent my account from being blocked.
7. When you successfully added your tickets. You can opt for print-at-home or collect at the venue. I always choose print-at-home and just have it printed on the venue box office so I have a souvenir. (It cost SGD5 for printing).
Frequently Asked Questions:
Q: Do I need a Singapore number to register?
A: No, you don't. I used my own Philippine number to register. I think the most common mistake why some people can't register with their local number in Ticketmaster Singapore is because they forget to put the country code which is "+63" for the Philippines. Yes, with the plus sign. And ditch the zero and type your number starting with "+639". If it still not working, you may contact their customer service. They respond fast! I know some asked for assistance.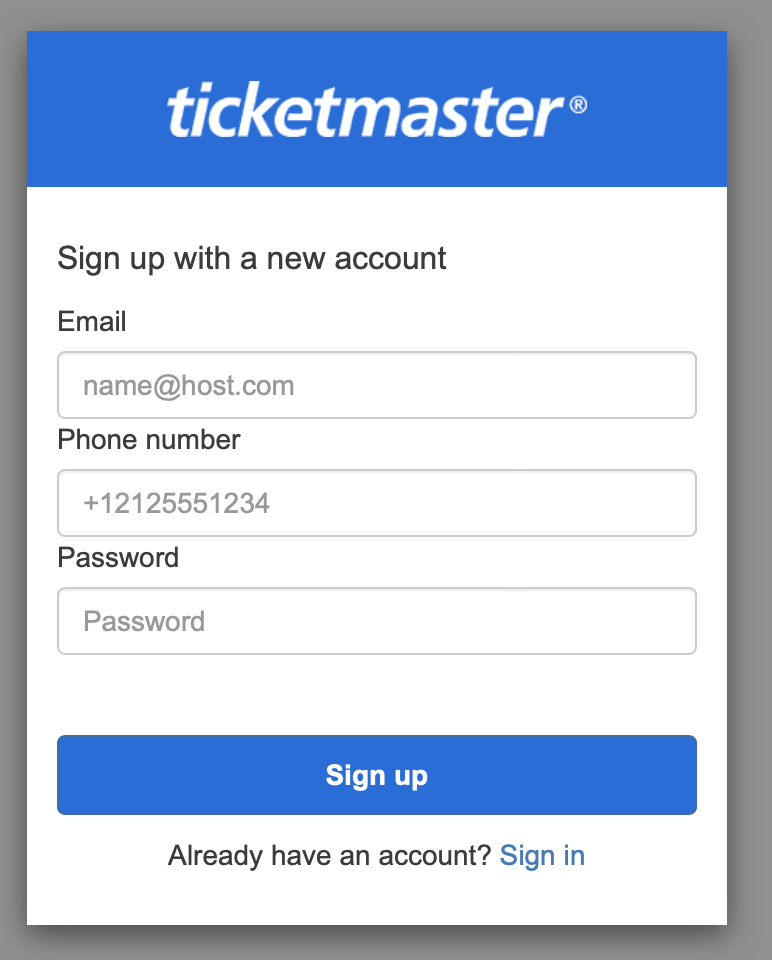 Q: What is Forbidden Error 403?
A: That means you're blocked. It can last for 24 hours or more. This happens when Ticketmaster notice your account is being used by multiple screens or devices, they think you're a bot. This also happens when you refresh way too much way too fast or didn't verify from the Ticketmaster auto email that it's you who's using the account on a different device. I experienced this and they lifted my ban after 2 weeks. But I still managed to buy tickets because I connected to a different internet. So it's the IP address they blocked, not the account in my case.
Q: Can I use my debit card?
A: Yes, you can. I use my debit card to purchase my tickets. On the payment section just choose "Credit Card" and type your card details. This works on my Mastercard and Visa debit cards. TAKE NOTE: My card details are also saved in my browser for faster checkout.
Q: What are the payment methods available in Ticketmaster Singapore? Do they accept Paypal?
The photo below shows the payment methods available in Ticketmaster Singapore during the Agust D D-Day Tour selling. So I think this will be all available in the Eras Tour selling as well and other concerts too. They used to accept PayPal (that's what I used in the Seventeen BeTS Concert) and had PayPal Preselling too in other concerts in the past, but I'm not sure why it's not available lately.
Q: Does refreshing the screen in the waiting area 1-second before entering the queue really help to get a lower Queuing Number?
A: I honestly don't know if it actually works. I tried it and got 7K+ QN. But when you're in and it says there's no ticket available anymore but no official announcement yet, keep refreshing. But not too fast because they might think you're a bot and might get blocked. Ticketmaster releases the tickets in batches. I know some people that had lower QN than mine and still got tickets even though it was already "sold out" on the website during my time.
Q: Does Ticketmaster ask for OTP when you pay for the tickets?
A: I don't remember Ticketmaster SG asking for OTP, but my bank did to confirm my payment. Take note, I used a debit card for payments. I think the reason why Ticketmaster is asking us to verify our mobile phone numbers is for security, for two-way authentication. In the US, a lot of Ticketmaster accounts were hacked and the victim's Eras Tour concert tickets that they fought so hard to get were e-transferred to another account. You can find a lot of these rant videos in Tiktok, and here's an article from PopCrush. Some were able to retrieve their tickets while some were refunded by Ticketmaster only. make sure to verify your phone numbers.
Q: Which browser is the best for Ticketmaster?
A: From my observations from other people, the top two browsers are Google Chrome and Microsoft Edge. Personally, I find Chrome faster than Safari and it's the one I had the most success in securing tickets. I haven't tried Microsoft Edge yet, but I will now.
That's all. Fingers crossed, may the odds be ever in our favor! If you have more questions on how to buy tickets on Ticketmaster Singapore, feel free to DM me on Instagram @itsmariaalyssa or Twitter @fangurlaly